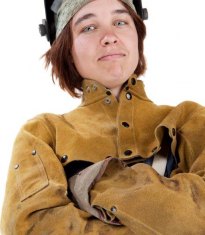 Welder
$33.91 Hourly / $70,535Annual
Do you love playing with a little bit of fire? Welders join objects together by applying heat or pressure. Skilled welders have a thorough knowledge of welding principals and metals. They use blueprints and drawings to build anything from ships to cars to bridges. Welders are also crucial in maintaining power plants of all types and have the opportunity to travel throughout the year.
Education options: Students can start in high school where programs are available and continue training at technical schools, community colleges, registered apprenticeships or industry training programs.
Qualifications: Some welding positions require general certifications, or certifications in specific skills such as inspection or robotic welding. The American Welding Society certification courses are widely used throughout the United States.