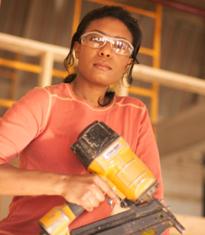 Roofer
$16.97 Hourly / $35,290 Annual
Do you love seeing your accomplishments unfold before your eyes? Do you love to be on top of the world? Well then being a Roofer is for you! Roofers a variety of materials to roofs and other surfaces. These materials include hot and cold applied built-up roofing and waterproofing, asphalt shingles, tile, and other materials that protect surfaces from the elements. Teamwork is important, as roofers work in crews. Work is usually in the open and at heights, on roofs or scaffolds. Roofers usually go through a formal apprenticeship which includes about three to four years of paid on-the-job training combined with classroom instruction.
Education: "Earn as you learn" apprenticeship programs, colleges, and technical schools.
Qualifications: Good depth perception, manual dexterity and decision making skills.