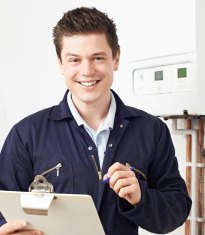 Plumber
$24.92 Hourly / $51,830 Annual
Are you always tinkering with objects? Do people ask for your help with fixing mechanical things? Consider plumbing. Plumbers do much more than fix sinks and toilets in residential homes. They design and install piping systems that distribute water and remove waste from buildings, connecting to washers, sinks, heating, and cooling systems. Plumbers have to be knowledgeable in the water distribution, blueprint reading, local ordinances and regulations, mathematics, mechanical drawing, physics, welding, and soldering.
Education: "Earn as you learn" apprenticeship programs, colleges, and technical schools.
Qualifications: In most parts of the United States, plumbers must be licensed before they may work independently, which requires 2 to 5 years of experience and passing a written examination.