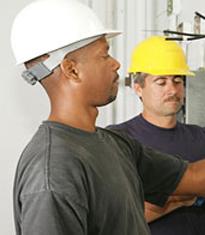 Electrician
$27.49 Hourly / $57,174 Annual
If you're into sound systems, robotics, or tinkering with wires, you are probably thinking about a career as an electrician. Electricians install and maintain all of the electrical and power systems for our homes, businesses and factories. They install and maintain the wiring and control equipment through which electricity flows. They also install and maintain electrical equipment and machines in factories and a wide range of other businesses. Electricians in large factories usually do maintenance work that is more complex.
Education: "Earn as you learn" apprenticeship programs, colleges, and technical schools.
Qualifications: Manual dexterity, hand-eye coordination, physical fitness, and a good sense of balance. Electricians also need good color vision in order to recognized electrical wires by color.