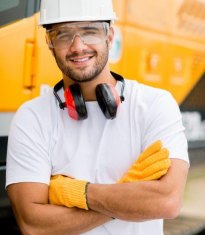 Operator Engineer
$28.09 Hourly / $58,429 Annual
Do you drive a big truck? When you consider the big machines that clear a construction site, it could put a pickup truck to shame. Construction equipment operators clear and grade land for the construction of roads, buildings, and bridges, airport runways, power generation facilities, dams, levees, and other structures.
Education: "Earn as you learn" apprenticeship programs, colleges, and technical schools.
Qualifications: Mechanical aptitude, experience operating mobile equipment (such as farm tractors), good physical condition, good sense of balance, hand-eye-foot coordination. A commercial driver's license is often needed to haul equipment to various jobsites.