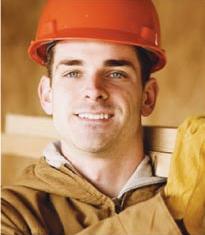 Carpenter
$26.04 Hourly / $54,157 Annual*
Do you like building, traveling and being outdoors? Commercial and Industrial Carpenters construct, erect, install, and repair structures and fixtures. These carpenters are involved in many different kinds of construction, from buildings to highways and bridges to power plants.
Education options: Students can start in high school where programs are available and continue training at technical schools, community colleges, registered apprenticeships or industry training programs.
Qualifications: Carpenters need manual dexterity, good eye-hand coordination, physical fitness and a good sense of balance. The ability to solve mathematical problems quickly and accurately also is required. Carpenters can learn their craft while making good money through on-the-job training.