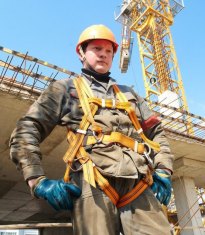 Ironworker
$27.50 Hourly / $57,196 Annual
If you are looking for an exciting career balancing from the top of a brand new skyscraper while using a rivet gun, then ironworking is for you. Ironworkers place and install iron or steel girders, columns, and other construction materials. They must always be paying attention to details to check vertical and horizontal alignment with plumb bobs, laser equipment, transits or levels – then they bolt or weld the piece permanently in place.
Education options: Students can start in high school where programs are available and continue training at technical schools, community colleges, registered apprenticeships or industry training programs.
Qualifications: Good hand-eye coordination, physical dexterity, good balance and agility, mechanical and mathematic aptitude. Ironworkers should not be afraid of heights or suffer from dizziness. Welder certification is very helpful in this field, as well.